GEO Steering Committee
Officers
GEO Co-Chair – Jocelyn Silverlight, Social Justice Education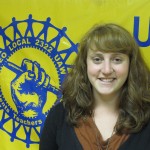 Jocelyn Silverlight is a third year Masters candidate in Social Justice Education. Jocelyn previously worked as a TA for Community Service-Learning courses in the Civic Engagement & Service Learning office. Currently she is serving her second term as Co-Chair of GEO. Jocelyn co-chairs the Steering Committee, is a member of the UAW 2322 Joint Council and is a Trustee for the UAW 2322 Executive Board. Jocelyn is also a recent member of the UAW2322 Civil and Human Rights Committee, Pride at Work and serves as co-chair of the GEO Bargaining Committee. As Co-Chair of GEO, Jocelyn leads membership meetings, educates members about the Union, plans events and works to create short and long term visions for our unit and GEO staff. Jocelyn also brings her awareness of social justice issues into the work place and continuously works with the GEO staff to create an inclusive and community based atmosphere. Jocelyn resides in Northampton and has three cats. She sings and plays drums for her band and enjoys all of the live music and art the Pioneer Valley has to offer.
GEO Co-Chair – Derek Doughty, Anthropology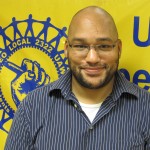 Derek Doughty is entering his fifth year in the Anthropology PhD program.   After serving as a GSS senator during his first year and Anthro Grad Caucus Chair in his second, Derek sought the best possible way to positively impact the broader UMass graduate community.   He determined that the Graduate Employee Organization was better situated than any other campus organization to utilize his nine years  of grassroots campaign experience.   In 2009, Derek was hired as grievance coordinator and the following year he was elected president of GEO.   This spring he was elected Co-Chair and continues to advocate for member rights, benefits, and protections.  Derek is a member of UAW 2322's Joint Council and Executive Board,  serves on the UAW/UMASS Health & Welfare Trust Fund Board of Trustees,  represents GEO on both the Chancellor's Work Place Climate Committee and the UHS review committee (which successfully saved the pharmacy and the lab), the Campus Coalition Against Workplace Bullying,  the Responsible Employer Campaign, and the Save University Health Services Steering Committee.   As an elected officer, Derek ensures efficiency and productivity in the day to day functioning of the GEO office to meet GEO members' needs.   Also, he plans and coordinates social events, membership meetings, on and off campus political campaigns, along with representing GEO at state and national events and conferences.
Derek is an avid gamer  (2 time Northampton Wii bowling champion), a stubbornly persistent musician and an accomplished karaoke singer impersonator.
GEO Membership Mobilization Coordinator – Danielle Allessio, Education
Danielle has been a GEO member since 2009.  She was the GEO Database Coordinator from May 2010 to May 2012.  As the Database Coordinator her responsibilities included creating a new online membership dues form, working with the membership database and website, providing technology support for meetings and events, and designing and creating GEO brochures and event flyers.
Presently, as the GEO Mobilization Coordinator Danielle's primary responsibilities are supervising membership drives, assisting in boosting attendance, attending Steering and Assembly of Stewards meetings, introducing all new members and visitors, assisting the GEO Co-Chairs in preserving order when called upon to do so and ensuring that minutes are taken at all GEO meetings.
Danielle also serves on the Local Joint Council and has nominated herself for Guide on the Executive Board.
Additionally she is a Steward for the School of Education where she is a doctoral student concentrating on Learning Technologies.
Members-at-Large
Steering Committee Member-At-Large – Anders Minter, Social Justice Education
Steering Committee Member-At-Large – Kyla Walters, Sociology
Steward Delegates
Steering Committee Steward Delegate – Anna Waltman, Writing Program
Steering Committee Steward Delegate - Carly Houston, Writing Program
GEO Stewards' Assembly
Stewards' Assembly Co-Chair – Anna Waltman, Writing Program
Stewards' Assembly Co-Chair – Carly Houston, Writing Program
GEO Staff – Academic Year 2012-2013
GEO Organizer – Yetunde Ajao, Education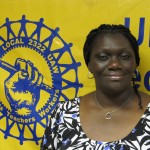 Yetunde Ajao is an International Graduate Student undergoing a Doctoral program in Educational Policy and Leadership at the Center for International Education. At the same time, she is a candidate in the Graduate Certificate Program in Advanced Feminist Studies. Yetunde joined the School of Education in 2010 and has since been a member of GEO. She worked as a Teaching Assistant in the International Education Course (EDUC 229) from Sept 2010 to May 2011. Yetunde joined GEO as a staff in Sept 2011. She served as the GEO International Graduate Student Coordinator.  Currently, she is a GEO Organizer and continues to coordinate issues pertaining to International Graduate Student employees. As an organizer, her responsibilities include seeking out and signing up new members, facilitating and sustaining membership drives, educating graduate employees on their rights as GEO members, organizing GEO campaigns and events, conducting research to support GEO work and facilitating GEO international student caucus events. With over 20 years of union experience, Yetunde advocates for women's rights and believes in equality. Her strength lies in inspiring upcoming young women. This summer, Yetunde served as a member of the union's bargaining committee dedicated to negotiate a new contract for graduate employees.
Yetunde loves to cook, nurture plants and listen to good music. She is happily married and blessed with five lovely children.
GEO Organizer – Kevin Felton, Labor Studies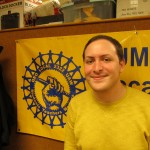 Kevin joined GEO in 2012, and is a graduate student at the UMass Amherst Labor Center. Prior to moving to Amherst, Kevin was involved in labor activism across Central and South Florida. He worked with various organizations, such as the Central Florida chapter of Jobs with Justice, the Student Labor Action Project, and the Youth and Young Adult Network of the National Farm Worker Ministry. Upon arriving in Western Massachusetts, he began working with the Western Massachusetts chapter of Jobs with Justice, and as an intern for the Massachusetts Early Childhood Educators Union. Kevin will be working as a GEO organizer for the 2012-2013 academic year, and will be representing GEO in the CMASS subcommittee, and on the Status of Diversity Council.
GEO Grievance Coordinator – Abby Templer, Sociology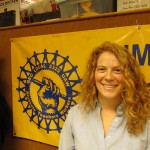 Abby Templer is in the Sociology doctoral program and has been a member of GEO since 2006. She was a steward in the 2007-2008 and 2009-2010 academic years, and was a member of the By-Laws Committee in the spring of 2009. Abby also participated in the Women in Leadership Development training for women union members in 2012.  Abby has greatly benefitted from working on a unionized campus and looks forward to playing an active role in upholding worker rights.
UAW Local 2322 Staff Assigned to GEO
GEO Office Manager – Andrew Goulet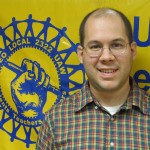 Andy is a graduate student at the UMass Amherst Labor Relations and Research Center's Union Leadership and Administration program. He began working for UAW Local 2322 in May of 2012. As the GEO office manager, he answers member's questions, handles paperwork, and orders everyone's favorite pens. He enjoys western swing music and justice.
Local 2322 Servicing Representative – Court Cline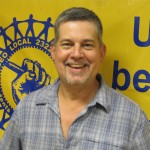 Court Cline was first involved with the Graduate Employee Organization in the summer of 1989, when he was hired to create a database of graduate student employees by District 65/UAW organizers.  For more than 12 years, Court was part of the Food for Thought Bookstore collective, and most recently, he was a social worker/case manager at AIDS CARE/Hampshire County which provides comprehensive, confidential care and support to folks living with HIV/AIDS in Hampshire County.  As a longtime supporter of the Labor Movement, Court is very proud to be part of one of the largest and most progressive unions in the Commonwealth of Massachusetts.  He is also an active member of the local chapter of Pride at Work, the lesbian, gay, bisexual and transgender labor organization, and he is currently  the Recording Secretary for the UAW Local 2322 and Co-Chair of the Education & Solidarity committee of UAW 2322.
Local 2322 Servicing Representative – Ryan McGovern Quinn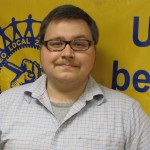 Ryan joined UAW 2322 in 2007 as a Teaching Assistant for Labor and Work in the U.S. and Labor and the Global Economy while earning his master's degree from the UMass Amherst Labor Relations and Research Center.  While a graduate student employee, Ryan served as GEO delegate to the UAW 2322 Joint Council, UAW 2322 Vice-President, Member-at-Large on the GEO Steering Committee, and as a member of the Bargaining, Organizing, Bylaws, and Community Action Program (CAP) Committees.  After graduating in 2009, he worked for UAW Region 9A as an organizer for the UMass Postdoctoral Researcher Organization (PRO-UAW) and the UAW at Foxwoods campaign before being hired as a Servicing Representative for UAW Local 2322.
Ryan is currently Vice-President of UAW Local 2322, Western MA Area Delegate to the UAW's Massachusetts CAP Council and co-chair of the UAW 2322 Solidarity and Education Committee.