GEO Steering Committee
Officers and Staff
GEO Co-Chair – Anna Waltman, English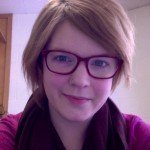 Anna Waltman grew up in a family of union workers in Millville, NJ and has been interested in labor issues since high school. Though she's been a member of GEO-UAW 2322 since 2009, Anna was inspired by one of her department's former stewards to become more active at the end of spring 2012. Since then she has served as an active English department steward, co-chair of Stewards' Assembly, and a Stewards' co-representative to Steering Committee. Anna feels at once thrilled and humbled by the opportunity to serve GEO's members as co-chair. She plans to dedicate a significant amount of time and energy this year to practicing face-to-face, grassroots-style organizing that focuses on empowering rank-and-file members to be more involved with GEO and UAW 2322 at every level.
Anna holds a BA in Political Science and English Literature from Goucher College in Baltimore, Maryland (2008), and earned her MA in English from UMass Amherst in 2012. She is currently in her fifth year at UMass and her second year of doctoral work. Anna's dissertation will explore how economic crises and resulting anticapitalist resistance movements have shaped the content and form of poetry in the United States since the 1930s.
Anna enjoys designing subversive cross-stitching projects, knitting, baking, running, and making up songs on her mountain dulcimer– but most of the time she can  be found reading or writing with a large cup of coffee and her two cats close at hand.
GEO Grievance Coordinator – Enku Ide, Sociology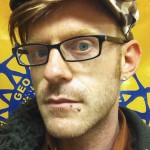 Hi! I'm Enku Ide, and I'm currently serving as your GEO Grievance Coordinator.  I'm a graduate student in sociology, where I study higher education, work/labor, genders/sexualities, and social movements (particularly the labor movement).  Last year, I served as a steward for the sociology department, I was an active member of the organizing committee, and I was on GEO Steering.  I'm new to the labor movement as a member (and certainly as a staff member), but I cut my teeth in the labor solidarity movement with United Students Against Sweatshops and the Student/Farmworker Alliance while an undergraduate at the University of Southern Mississippi.  I then went to work for Labor Notes before going on to the University of Kentucky for my MA (2012).  For my MA thesis, I looked at workplace experiences among unionized and non-unionized graduate employees.  I'm currently starting my third year here at UMass.
Members-at-Large
Santiago Vidales, Spanish and Portuguese
Emily Alvelo, Residential Life
Steward Delegates
Tobias Wilson, Mathematics and Statistics