GEO Steering Committee
Officers
GEO Co-Chair – Anna Waltman, English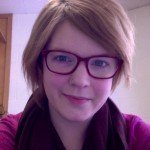 Anna Waltman grew up in a family of union workers in Millville, NJ and has been interested in labor issues since high school. Though she's been a member of GEO-UAW 2322 since 2009, Anna was inspired by one of her department's former stewards to become more active at the end of spring 2012. Since then she has served as an active English department steward, co-chair of Stewards' Assembly, and a Stewards' co-representative to Steering Committee. Anna feels at once thrilled and humbled by the opportunity to serve GEO's members as co-chair. She plans to dedicate a significant amount of time and energy this year to practicing face-to-face, grassroots-style organizing that focuses on empowering rank-and-file members to be more involved with GEO and UAW 2322 at every level.
Anna holds a BA in Political Science and English Literature from Goucher College in Baltimore, Maryland (2008), and earned her MA in English from UMass Amherst in 2012. She is currently in her fifth year at UMass and her second year of doctoral work. Anna's dissertation will explore how economic crises and resulting anticapitalist resistance movements have shaped the content and form of poetry in the United States since the 1930s.
Anna enjoys designing subversive cross-stitching projects, knitting, baking, running, and making up songs on her mountain dulcimer– but most of the time she can  be found reading or writing with a large cup of coffee and her two cats close at hand.
GEO Co-Chair – Eric Hoyt, Economics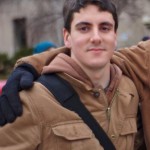 I have been active in the GEO shop of our local over the past two years.  I came to the University of Massachusetts-Amherst in the Fall 2011 to begin my graduate studies in Economics, moving from Madison, Wisconsin, where I'd lived for six years, first going to college and then living and working as a part-time staff at the University of Wisconsin.  During my time in Wisconsin, I became very involved in activism around labor issues both in campus and the surrounding community.  I developed strong ties with steward activists in the blue collar union at my college campus, and they inspired me to one day get involved myself as a steward if I ever found myself working in a unionized job.  I took part heavily in the labor protests my last year in Wisconsin against the union-busting policies of Governor Scott Walker.
It was all these experiences that led me to run and be elected for shop steward in the Economics Department my first few days on campus, and ultimately, what brought me to step up my involvement and serve as Co-Chair of GEO.
I believe that what unites all of us in our union right now is our commitment to public service, and we need to face directly the fact that graduate employees, along with all public employees, have been increasingly vilified and openly targeted by government and business campaigns to cut back on spending for education and other essential publicly funded services.
GEO Membership Mobilization Coordinator -Kevin Felton, Labor Studies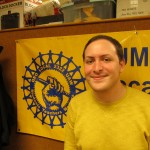 Kevin joined GEO in 2012, and is a graduate student at the UMass Amherst Labor Center. Prior to moving to Amherst, Kevin was involved in labor activism across Central and South Florida. He worked with various organizations, such as the Central Florida chapter of Jobs with Justice, the Student Labor Action Project, and the Youth and Young Adult Network of the National Farm Worker Ministry. Upon arriving in Western Massachusetts, he began working with the Western Massachusetts chapter of Jobs with Justice, and as an intern for the Massachusetts Early Childhood Educators Union. Kevin will be working as a GEO Mobilization Coordinator for the 2013-2014 academic year.
Members-at-Large
Santiago Vidales, Spanish and Portuguese
Emily Alvelo, Residential Life
Steward Delegates
Enku Ide, Sociology
Tobias Wilson, Mathematics and Statistics
UAW Local 2322 Staff Assigned to UAW 2322 Amherst Office
Office Manager – Andrew Goulet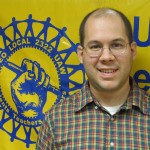 Andy began working for UAW Local 2322 in May of 2012. As the UAW 2322 Amherst office manager, he answers member's questions, processes dues forms, orders fliers, and maintains the website and email groups. He enjoys western swing music and justice.