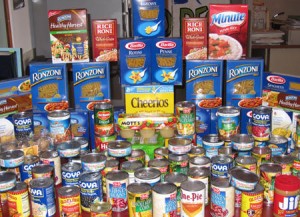 UAW Local 2322 is sponsoring a food drive to help local pantries restock their shelves for the upcoming winter season. We encourage everyone to donate whatever they can to this drive and help us support the needs of our communities. We will be collecting non-perishable food items in our Holyoke & UMass (GEO) offices until December 9th, and then we will send the donations to one or more area pantries, where they can be the most help.
Even if you think you can't give enough, remember that every item helps when you have nothing. If we all are able to donate just one item each think of how many families, together, we could help…
Suggested food items:
Canned fruit or vegetables
Canned tuna or salmon-in water
Baby food & dry formula
Cereal (high fiber/low sugar)
Fruit or Vegetable juice (100%)
Soups, stews & chili
Pancake/waffle mixes
Pasta (dry or canned)
Peanut butter
Canned beans
Oatmeal
Nuts
Rice
Non-food items:
Diapers (child & Adult)
Toilet & Facial tissue
Toothpaste
Hand soap
Laundry soap
Dish soap
Toothbrush
Shampoo
Deodorant
*  PLEASE NO GLASS ITEMS  *
This event doesn't have to be just a union event. Spread the word and ask your family and friends to help out too. Are you willing to collect items at your worksite?