GEO Membership Meeting: 9/20/2010
GEO's first membership meeting of the semester will take place tonight at 5pm in Campus Center room 163C.  Food will be available at 5, and the meeting will commence at 5:15.
International Student Pre-Career Workshop: 9/21/2010
This event, a workshop on presenting yourself to potential employers, will run from 4:30-5:30 in Campus Center room 162.  The event is cosponsored by GEO, the International Programs Office, and Career Services.  All students are welcome.  Contact our International Student Coordinator Nigel Brissett at international@geouaw.org with any questions.
GEO Health and Welfare Trust: Annual Benefit Fair: 9/23/2010
Thursday, September 23: 10am to 4pm, Campus Center Concourse and Reading Room.  Enroll for your dental and vision benefits, speak with our benefits administrator and ask any questions you have of GEO staff.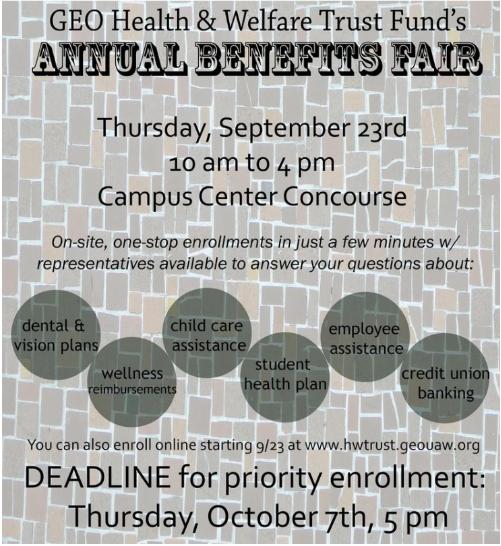 Birth Control Grievance Update
With the help of many committed members, GEO has won its grievance against University Health Services for raising the price of birth control.  Within the next month, the copay under AETNA's Student Health Insurance Plan will return to $10 a month, regardless of whether the medication is generic or brand name.  Any copay paid above $10 from August 1 until the plan is fixed will be reimbursable by University Health Services once the copay is corrected.  The reimbursement will apply to dependents on the health insurance plan as well as to members.  We have not worked out all the details of the reimbursement program, but we urge you to keep all your receipts, and to visit your pharmacy to get an itemized accounting of your prescription bills since August 1 so that you will be ready to submit your reimbursements once the program is in effect.  We will keep all members updated on the status of the reimbursement, but please email UAW 2322 Servicing Representative Ryan Quinn at rep@geouaw.org if you have any questions or would like any further information.
GEO Finance Committee
GEO will be convening a finance committee shortly and we are now seeking any interested GEO members who wish to participate. Members of the committee are responsible for the vital task of drafting the annual budget for the unit. If you are interested, please send an e-mail to GEO Secretary-Treasurer David Wemhoener at treasurer@geouaw.org and include your name, department, contact information, and your availabilities for the week of September 27th – October 1st. A meeting date will follow shortly.
GEO on Facebook and Twitter!
GEO on Facebook: http://www.facebook.com/pages/Graduate-Employee-Organization-GEO-UAW/141821789194390
GEO on Twitter: http://www.twitter.com/geouaw