Following three months of canvassing, the GEO Bargaining Committee is ready to announce its initial bargaining survey results.  We were pleased with the response from membership and with the help we received from stewards who distributed and collected surveys, and who worked with GEO staff and the GEO Bargaining Committee to speak with members at their work sites.
Bargaining Priorities
We asked members to choose their top 3 priorities from a list of common concerns members have raised with staff.  The following chart illustrates the percentage of members identifying each potential bargaining priority as one of their top 3 concerns.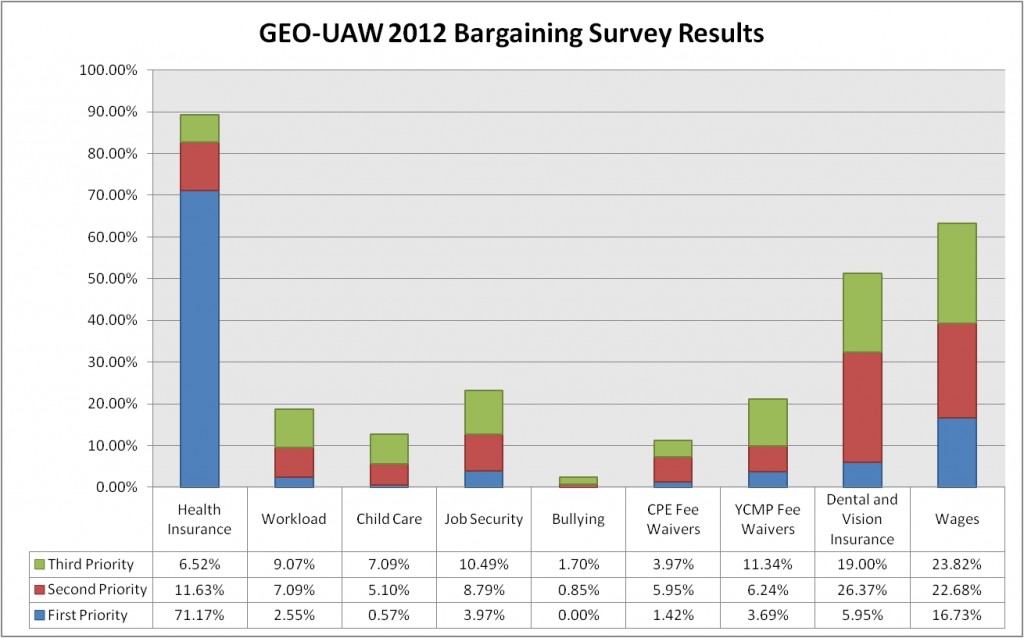 In addition to these priorities, 6 members identified the elimination of the recreation fee for graduate students as a priority.
It is, perhaps, not surprising that health insurance is GEO's top priority.  Management's attacks on our members' health care – through "coinsurance" fees and proposed cuts to University Health Services – have lead to some of the most significant public actions GEO has taken in years, where hundreds of members participated in rallies and demonstrations to demand access to health care.
Workload
We also asked members about their contracted hours and whether they are able to finish their work within those hours.  We found that, of those responding, members are working 128% of their contracted hours.  This means that, on a 20 hour per week contract, an average member would work 25 hours and 36 minutes per week.  Fully 66% of respondents told us that a typical work week exceeded their contracted hours.
There were seven departments where the average respondent's workload was 200% or more than their contracted hours:
Biochemistry and Molecular Biology
Chemical Engineering
Chemistry
Astronomy
Biology
Polymer Science and Engineering
Molecular and Cellular Biology
Willingness to Help
We asked members how they would be willing to help us win a good contract.  93% of members said that they would help a contract campaign by either wearing a button or sticker, talking to a coworker about the contract, or attending a bargaining session or contract rally.  This show of support is going to be crucial for us to win the gains we all want to see in our next contract.  We will be in touch with members who want to help when planning our contract campaign.  Look out for meetings and updates of the Contract Organizing Committee for more information on actions around the contract.
If you haven't completed a survey…
…we still want to hear from you!  Fill out our online survey now or stop by the GEO Office, 201 Student Union, to complete a paper copy.  If you are a steward or just a member who wants to help out, contact GEO President Derek Doughty to set up a time when you can join a staff organizer to distribute surveys in your department.