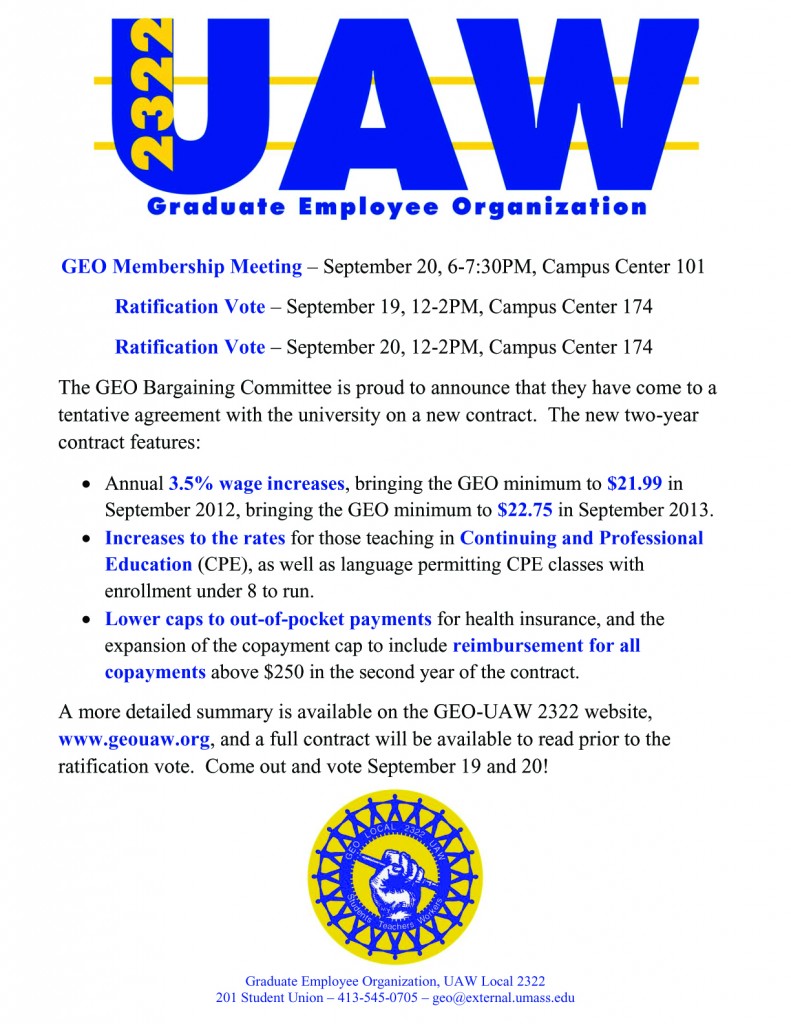 What: GEO Membership Meeting
When: Thursday, September 20th, 6:00-7:30 PM
Where: Campus Center 101
Come to the first GEO membership meeting of the academic year! We will finish up voting on the ratification of the new contract, hear from representatives of UAW Local 2322's committees (and how YOU can get involved), and much more! We're looking forward to a great year with a strong, active membership. Come down to the membership meeting and learn about YOUR union!
Membership Meeting Agenda
I. Ratification Voting (15 min)
II. Introduction of Members (5 min)
III. Introduction of Staff (3 min)
IV. Standing Committee Presentations (10 min)
a. Recreation & Conservation
b. Solidarity & Education
c. Civil & Humans Rights
d. Community Services
e. Citizenship & Legislative
V. Campaign Updates (5 min)
a. Health Care
b. Contract
VI. Empty Steward Spots Sign up/ Joint Council openings (5 min)
VII. V-CAP Drive/Voter Registration (3 min)
VIII. Gimme5 Drive (3 min)
IX. Additional Items (5 min)
X. Raffle drawing (2 min)
XI. Cheer/Song (2 min)
XII. Upcoming Events