Sharice Brown
Hello, My name is Sharice Brown and I am running for the position of Vice President of the Graduate Employee Organization.
Last year I worked as the Contract Campaign Organizer for GEO to secure the contract and this year I held the title of Summer Orientations Coordinator, working to organize as well as address members directly through campus-wide departmental orientations.  Through this work, I have seen and understand the importance and benefits of direct outreach to our members.
If I am elected Vice President, I will continue to work on union building through the recruitment of more stewards as well as getting members more involved through social and campaign work on fee reductions and making sure the contract gets funded. As an active GEO member nothing has become clearer to me than the fact that the union is only as strong as its membership.  However, to build a strong membership, I believe we must represent the needs of ALL of our members.  Thus, I will continue to work diligently to address issues around diversity on the UMass Amherst Campus.  Importantly, I will continue to work to enforce the contract, ensuring that ALL members' rights are protected in pay, benefits, hours of work, and fair treatment.
Finally, while I believe that a union is only as strong as its members, I also believe that union leadership has a responsibility to answer to its members.  I believe the membership is the governing body of the union and our members should hold all union leadership accountable.
———-
Matthew Lepori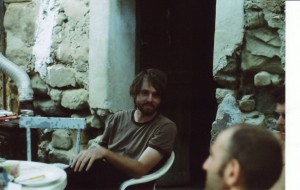 Union members need to feel that their union is responsive.  Members must see that the union is an active force in the university; and second, that the union is ready to respond to one's particular ideas and concerns, problems and projects.  In short, the union's presence needs to be felt, and we, the membership, need to feel that the union is capable of meeting our contingencies.
Putting these ideas into practice:  I would like to see greater outreach on the part of the leadership to the various departments and student groups.  In particular, we ought to focus on those sections of the graduate student body where union participation is weak.  Some departments do not even have stewards. It is possible to achieve greater incorporation of the (nominal) members, if we actively seek their inclusion. Canvassing our membership, both in terms of departments and student groups, is essential.  Emails are an insufficient tool to achieve participation. Participation is predicated on face-to-face interactions, on showing that we are capable of establishing a physical presence, of delivering a persuasive message to an audience.  That, after all, is the bread and butter of union activity:  establishing a physical presence, spreading a message, and convincing others to join ranks.
Given the current status of the union's contract, yet to be approved by the state legislature, we need to mobilize, to proactively realize the contract.  By demonstrating to our members that we are a responsive body, by being a physical and vocal presence, we will achieve greater participation, more effectively mobilize, and better pursue our union goals.
———-
Augusta Mfuko
My name is Augusta Mfuko a graduate student Department of Mathematics, Science and Learning Technologies, at the School of Education.
I am running for the position of "Vice President" for the office of the Graduate Employee Organization (GEO) for year 2009/2010. I have been an active member of GEO since I joined the graduate school here at the University of Massachusetts in fall, 2004. In year 2004/2005, I volunteered some hours at GEO office and attended bargaining meetings and joined several rallies organized to express our frustration to the administration in delaying signing our contract.
Also, I have been active in attending GEO meetings when I was a Treasurer for Graduate Student Senate (GSS) for the past two years.
I will be honored, to represent GEO members on further meeting as we continue to negotiation the current contract in the bargaining meetings with the administration. Also to serve GEO members in different matters, and be open to hear any matters related to their work, such as inequitable treatment, and resolution of differences when they occur. In addition, I will represent GEO to continue build strong coordination and relationship with other Unions; faculty, staff employment organization and the parent office Local 2322/UAW.
I will actively participate in recruiting new GEO members; also join other constituencies which support higher education like, Student Government Association (SGA) and PHENOM.  Thank you for your VOTES.